News & Events
Interview with our Body-building Champion – Billy Wong!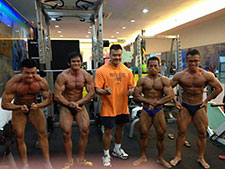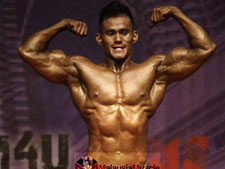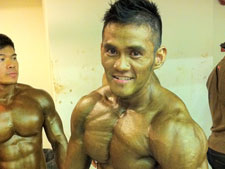 Q: How long have you been training?
A: 5-6 years of training which includes 2 ½ years of self-discipline training plan.
Q: What makes you get into body-building competition?
A: I had no idea on body-building until my Coach Wong Hong introduced me to body-building and from there I slowly developed my passion towards participating in body-building competitions.
Q: What competitions have you participated in and what were the results?
A: I participated in the Mr. Kuala Lumpur 2013 competition where I won 1st placing under Novice & Welter Weight (70kgs – 75kgs) and proud to be selected to represent Kuala Lumpur to compete in Mr. Malaysia Competition to be held on the 14th, 15th & 16th June 2013.
Q: What was your body like before you started training?
A: I was a skinny guy weighed only about 55kgs.
Q: What kind of workout program do you follow?
A: I follow HIT (High Intensity Training) program which was suitable for me.
Q: How do you start your day? Do you have a morning program?
A: I prepare my meals for the whole day and do cardio training every morning.
Q: How you keep yourself motivated and on track throughout the grueling dieting in the last few weeks before competition?
A: I do my best in everything and don't give up easily! I made it a point to eat healthy food and cook my my own meals so that I don't have to go out for lunch or dinner and being tempted by outside foods!
Q: Who is your favorite body-builder / fitness model / athlete?
A: Dorian Yates and Ronnie Coleman. They are great body-builders!
Q: What supplements were you taking?
A: Protein shakes, BCAA, Creatine & Glutamine which helps in muscle recovery.
Q: If you had a chance to convey your gratitude to someone throughout your training program, who will that be?
A: My family, Coach Wong Hong, my friends who has been very supportive and motivating all the time and most of all Synergy Fitness for providing me with a good workout environment for my training, supported and guided me well until I succeed! Thank you all!
HEAD QUARTER
Address:
No. 1-1, Jalan SP 2/1, Taman Serdang Perdana, 43300 Seri Kembangan, Selangor, Malaysia.
Contact:
Tel: +603-8959 1929
Working Hours:
Mon - Fri: 7:00 am - 11:00 pm
Weekends / Public Holiday: 8:00 am- 10:00 pm
PUCHONG BRANCH
Address:
F & B-2, Ground floor, Tower 4 at PFCC, Jalan Puteri 1/2, Bandar Puteri, 47100 Puchong, Selangor.
Contact:
Tel: +603-8051 3398
Working Hours:
Mon - Fri: 7:00 am - 11:00 pm
Weekends / Public Holiday: 9:00 am- 7:00 pm
---
Email:
admin@synergyfitness.com.my