Personal Training
Knowing how to set up a complete exercise schedule that includes all the activities you need to do - cardio, weight training and flexibility - can be overwhelming. Add the time and knowledge it takes to choose exercises, weights, reps and sets and you may quit before you even start. That why Personal Trainers are so important at this time, we motivate our clients by goal-setting and providing feedback and accountability our clients and also by measuring their strengths and weaknesses with fitness assessments to determine the best possible exercise for them.
CLIENT PROFILE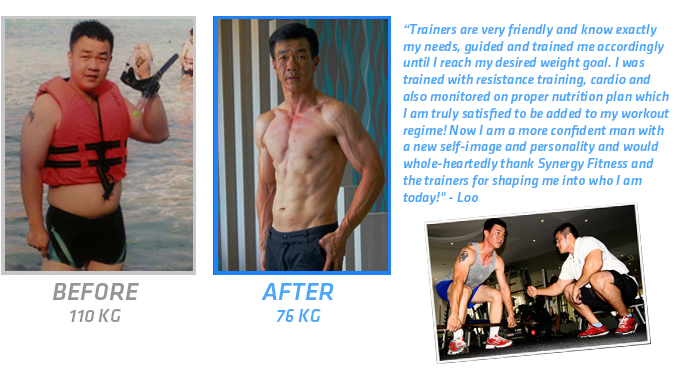 Mr Loo's Training Programme
PHASE 1 : WEIGHT LOSS
Start Date
27th July 2012
End Date
24th November 2012
BMI
39
BMI
26
Body Fat
42%
Body Fat
25%
Starting Weight
110kg
End Weight
80kg
PHASE 2 : MUSCLE BUILDING
Start Date
25th November 2012
End Date
25th January 2013
Body Fat
25%
Body Fat
22%
Starting Weight
80kg
End Weight
82kg
(Muscle Gain)
PHASE 3 : MUSCLE TONING & SHAPING
Start Date
26th January 2013
End Date
27th February 2013
Body Fat
22%
Body Fat
9%
Starting Weight
82kg
End Weight
76kg
*Results may vary according to body's acceptance and ability to adapt to all nutrition plans and workout regime.
*Mr. Loo was monitored closely by Personal Trainer and firmly followed his Training Program which had given him a faster result.
HEAD QUARTER
Address:
No. 1-1, Jalan SP 2/1, Taman Serdang Perdana, 43300 Seri Kembangan, Selangor, Malaysia.
Contact:
Tel: +603-8959 1929
Working Hours:
Mon - Fri: 7:00 am - 11:00 pm
Weekends / Public Holiday: 8:00 am- 10:00 pm
PUCHONG BRANCH
Address:
F & B-2, Ground floor, Tower 4 at PFCC, Jalan Puteri 1/2, Bandar Puteri, 47100 Puchong, Selangor.
Contact:
Tel: +603-8051 3398
Working Hours:
Mon - Fri: 7:00 am - 11:00 pm
Weekends / Public Holiday: 9:00 am- 7:00 pm
---
Email:
admin@synergyfitness.com.my