GET FIT: FITNESS TIPS & TRICKS
ALL WORK & NO PLAY IS NOT THE HEALTHY WAY!!!
IMPORTANCE OF EXERCISING AMONG WORKING ADULTS: Especially for deskbound jobs!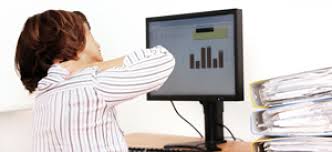 Heart Disease and Stroke
Sitting at the same place working all day long without any physical activity is DANGEROUS! Daily physical activity can help prevent heart disease and stroke by strengthening your heart muscle, lowering your blood pressure, raising your high-density lipoprotein (HDL) levels (good cholesterol) and lowering low-density lipoprotein (LDL) levels (bad cholesterol), improving blood flow, and increasing your heart's working capacity.
High Blood Pressure
Regular physical activity can reduce blood pressure in those with high blood pressure levels. Physical activity also reduces body fat, which is associated with high blood pressure which significantly related to job stress!
Noninsulin-Dependent Diabetes
By reducing body fat, physical activity can help to prevent and control this type of diabetes.
Obesity
Physical activity helps to reduce body fat by building or preserving muscle mass and improving the body's ability to use calories. When physical activity is combined with proper nutrition, it can help control weight and prevent obesity, a major risk factor for many diseases. It also boosts your confidence about your self-image and encourages a more active socialism at your WORKPLACE!
Back Pain
For most deskbound jobs, something which is tough to avoid is sitting posture, especially for straight 8 hours of work! By increasing muscle strength and endurance, improving flexibility and posture, regular exercise helps to prevent back pain not only for elderly people, but also for most youngsters!
Osteoporosis
Regular weight-bearing exercise promotes bone formation and may prevent many forms of bone loss associated with aging. Building stronger bones helps building a stronger YOU!
Psychological Effects
Meetings, appointments, targets, planning's & etc. can be troublesome and often causes stress, tension and depression! Regular physical activity can improve your mood and the way you feel about yourself. Researchers also have found that exercise is likely to reduce depression and anxiety and help you to better manage stress.
HEAD QUARTER
Address:
No. 1-1, Jalan SP 2/1, Taman Serdang Perdana, 43300 Seri Kembangan, Selangor, Malaysia.
Contact:
Tel: +603-8959 1929
Working Hours:
Mon - Fri: 7:00 am - 11:00 pm
Weekends / Public Holiday: 8:00 am- 10:00 pm
PUCHONG BRANCH
Address:
F & B-2, Ground floor, Tower 4 at PFCC, Jalan Puteri 1/2, Bandar Puteri, 47100 Puchong, Selangor.
Contact:
Tel: +603-8051 3398
Working Hours:
Mon - Fri: 7:00 am - 11:00 pm
Weekends / Public Holiday: 9:00 am- 7:00 pm
---
Email:
admin@synergyfitness.com.my